Yelena Bogdan, MD, FACS is a board-certified orthopaedic trauma surgeon in the NYC Health+Hospitals system. She is the Director of Orthopaedic Education at Jacobi Medical Center in New York City.
Dr. Bogdan came to the US at age 10 from Russia, rising to the top of her class at every level of education. In 2002, she graduated as valedictorian of her high school and was accepted into the combined BA/MD program Scholars for Medicine at Stony Brook University in New York. In 2006, she graduated as valedictorian of Stony Brook University with a Bachelor of Science in Psychology, Summa cum Laude. She obtained her MD from Stony Brook School of Medicine in 2010, and was elected to the Alpha Omega Alpha Honor Medical Society. This was followed by a residency in orthopaedic surgery at Boston Medical Center, where she served as the Administrative Chief Resident during her final year and received the Outstanding Chief Resident Research Award. After graduating in 2015, she completed a fellowship in orthopaedic trauma at the Hospital for Special Surgery in New York City.
Dr. Bogdan is the recipient of multiple honors in fracture care, including the Orthopaedic Trauma Association's highest resident honor, the Memorial Award, which she received in 2013 for her work on bisphosphonate femur fractures. She has previously won scholarships for the American Foot and Ankle Society, and multiple research awards at the Orthopaedic Trauma Association, Orthopaedic Research and Education Foundation, and the Pennsylvania Orthopaedic Society. She has authored multiple peer-reviewed articles in orthopaedic trauma journals, and is, to date, the youngest sole author of a chapter in the fracture textbook Rockwood and Green, which is used throughout the country in orthopaedic education. Since 2012, she has presented her work at national and local meetings, including the Orthopaedic Trauma Association and the American Academy of Orthopaedic Surgeons.
Dr. Bogdan serves as a young leader in orthopaedic trauma. She has previously sat on multiple Orthopaedic Trauma Association (OTA) and American Academy of Orthopaedic Surgeons (AAOS) committees to help develop resident and fellow education, and was one of only two chosen attendees (sponsored by the OTA) of the prestigious Clinician Scholar Development Program in 2014, as well as an American Orthopaedic Association (AOA) Resident Leadership Forum participant. She has also served as faculty at orthopaedic trauma courses, such as the Resident Fracture Course. She is also the youngest member of the COTA (Center for Orthopaedic Trauma Advancement) Board of Directors, and a Subspecialty Editor of the AAOS Resident Curriculum.
Dr. Bogdan's clinical interests include all aspects of orthopaedic trauma, with particular interest in evidence based outcomes, bisphosphonate-associated femur fractures, nonunion, and polytrauma.
In addition to her academic and clinical endeavors, Dr. Bogdan serves as a mentor for her former high school, volunteering at their annual career day and other alumni events, and is a member of their presidential fund. She also has an educational presence on Twitter, where she regularly communicates about evidence-based orthopaedics with surgeons around the world. She is a Social Media Ambassador for both the AAOS and the Orthopaedic Trauma Association. She is also a consultant for Smith & Nephew USA.
In her free time, Dr. Bogdan enjoys reading, podcasts, and singing.  
Contributions:
Tibial plateau fractures webinar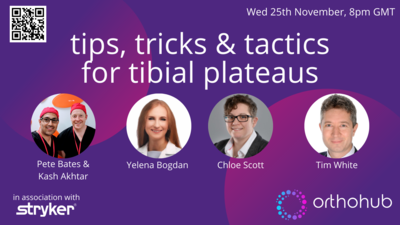 see one do one podcast: