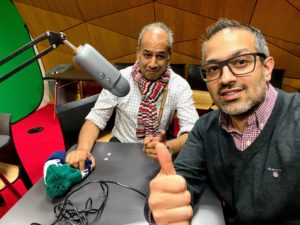 This is the second conversation with Mr Prim Achan, Consultant Trauma & Orthopaedic Surgeon, previous ABC Fellow and Training Programme Director for the Percivall Pott rotation.
The topics covered are so universal and widely applicable that this episode will be of interest to all physicians and surgeons alike, from *all* backgrounds and specialities, as well as to *anyone* involved in managing teams. 
We discuss:
an introduction to medical leadership
why leadership is a very sensitive topic in medicine
the role of the Specialist Advisory Committee
the difference between intent and impact
who in British Orthopaedics is most like Blofeld?
what can we learn from the '90s Chicago Bulls?
different leadership styles
why leadership in sports is not transferrable to medicine
what is leadership?
ability vs credibility
qualifications in leadership
leading yourself
starting leadership roles early in training
the concept of the Dutch Uncle
leading a department
the value of a consultant development programme
how to truly know yourself
why Michael Jordan would be a terrible medical leader
preventing and managing rifts between colleagues
why Prim refuses to buy crisps in the local tavern
other great sporting teams
the biggest problem with medical recruitment
an introduction to shaping a team
3 great leaders who were bad people
and much more!
Please follow us on twitter (@orthohubxyz), instagram (orthohubxyz), facebook (orthohubxyz) and subscribe and rate us on YouTube https://www.youtube.com/channel/UCUUB7XYW_rnVz_S–XLD1PQ
Please do also subscribe on to see one / do one on your podcast app and leave us a rating, we need your love!