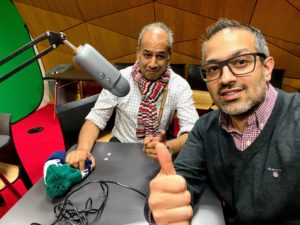 Kash Akhtar & Prim Achan
I really enjoyed this wide-ranging conversation with Mr Prim Achan, Consultant Trauma & Orthopaedic Surgeon, previous ABC Fellow and Training Programme Director for the Percivall Pott rotation.
The topics covered are so universal and widely applicable that this episode will be of interest to all physicians and surgeons alike, from *all* backgrounds and specialities.
We discuss:
what factors are needed to build a world-class department
how to choose a mentor
how to give meaningful advice to mentees
the differences between a mentor vs an advisor vs a coach
our personal experience of fellowships
5 things that make a great fellowship
do you have to do an overseas fellowship?
should you do 2 fellowships?
when to leave a fellowship early
the benefit of travelling fellowships
and more!
Please follow us on twitter (@orthohubxyz), instagram (orthohubxyz), facebook (orthohubxyz) and subscribe and rate us on YouTube https://www.youtube.com/channel/UCUUB7XYW_rnVz_S–XLD1PQ
Please do also subscribe on to see one / do one on your podcast app and leave us a rating, we need your love!